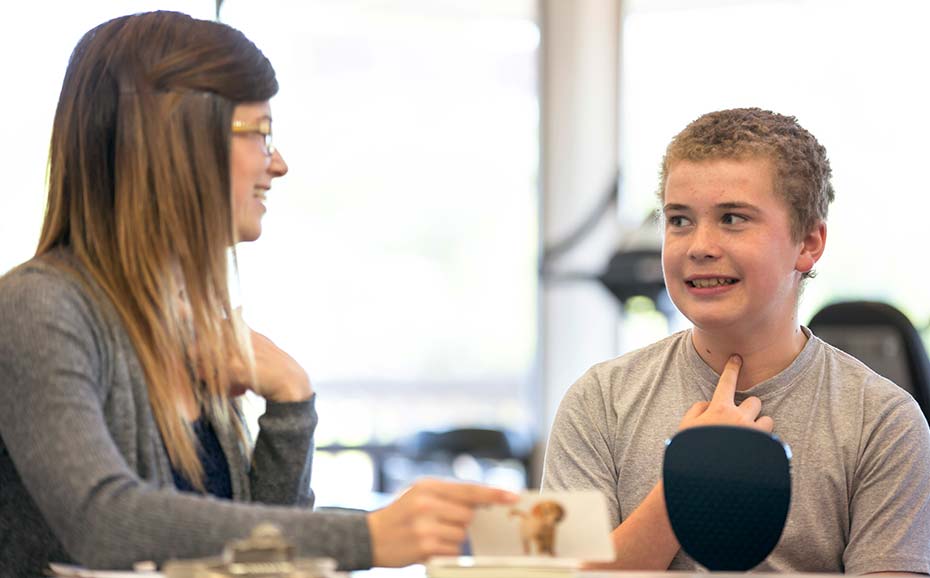 Speech and Language Therapy – what is it?
Speech and Language therapy is a well established profession operating within the NHS and in independent practice. There is a strong body of scientific research in relation to the many possible communication disorders providing a sound evidence base for the range of diagnostic tools and therapeutic methods employed.
What conditions do Speech and language therapists treat?
First some myth-busting!
Although 'speech' difficulties are an important part of our work, as you will see below we cover a whole range of communication difficulties, many of which are not primarily speech related.
Sorry, we don't do elocution or speech training!
Contact with babies and young children shows us that communication development starts well before a child begins to speak and therefore Speech and Language Therapists observe and assess the whole range of communication related skills that children need. These include attention and listening, play skills, ability to share and take turns, non verbal skills such as pointing, ability to understand what people say to them and express themselves . Also social skills and interaction with others.
Speech and Language Therapy is concerned with any form of communication delay or disorder that interrupts normal development. It could be part of a learning difficulty, a more specific speech or language difficulty or an inherited condition.
At Physio and Therapies the Speech and Language Therapy Service provides therapy for the whole range of communication difficulties seen in children including:
Attention/listening, eye contact, play, sharing and turn taking
These are the early communication skills that are the foundation for the development of speech and language
Language delay or disorder
The child's understanding, processing and use of spoken language is not following normal patterns or is immature for the child's age. This can have a huge impact on other aspects of their development especially on progress at nursery and school.
Speech (articulation/phonology) difficulties
A child may have a lot to say but because the speech sounds are incorrect it is hard for others to understand them. This is frustrating for everyone!
Most children can make significant progress from week 1 of therapy although there are some speech conditions that take more time and are more difficult to change
Dysfluency
Commonly known as stammering . Many children who have a stammer have good skills in the areas mentioned above but need help to produce a smooth flow of speech. With young children Speech and Language Therapy is very effective . With older children, we sometimes need to focus on strategies that help the child communicate in spite of the stammer. So approaches vary depending on the child.
Selective Mutism
In any one primary school there may be at least one child who has a phobia about speaking. This can often be resolved quite quickly for children up to about 5 years of age but may require longer with older children.
However, through working with parents and a range of key adults and the child's peers, the Speech and Language Therapist often plays a central role in the treatment of selective mute children, and usually success rates are high.
Voice problems
A child may have great communication skills but sometimes, often due to excessive straining of the voice (perhaps shouting at school or when playing), they can develop inflammation or even nodules on the vocal cords which produces a noticeable 'creakiness ' to the voice.
This often happens in children from around 6-7 years and therapy will tend to focus on raising their awareness of what they are doing and on changing the environments in which they speak, for example getting everyone talking more quietly at home. Vocal exercises may also be needed.
Social communication difficulties
Children struggle with:
Rules of conversation (pragmatic skills)
social interaction, for instance making and maintaining friends, using empathy and being able to share
inflexibility and literalness in their understanding and use of language
Children who have been diagnosed as being on the autistic spectrum will present with some or all of these difficulties, but some non-autistic children may have similar problems.
What can you expect from Speech and Language Therapy?
Assessment
From the outset I consider therapy to be a partnership between myself and you, the parent or carer. You know your child best and I need you to give me the information I need for a proper assessment. So the sessions will involve a mix between information sharing between myself and yourself and direct work with your child.
At the first appointment (which will take up to 1 hour) I will take a case history and help your child to feel at home in the clinic setting. Most of my assessment and observation is done through play and games and even the most reserved children usually 'warm up' if given time to feel secure and relaxed in the clinic setting. A home visit can always be arranged if it is felt that your child will be more able to engage, but normally I would like to see him/her in clinic for the first appointment.
The assessment process starts right from the moment I see the child even though he or she won't know it! We may need a couple of sessions to complete assessment and diagnosis. If there are a number of communication issues involved I may need an additional session for a school, home or nursery visit so that I can observe your child's communication skills in a natural and familiar setting.
I will ask for written consent for me to discuss your child's difficulties with any other agencies.
The final step in the assessment process is to give a diagnosis .
Treatment
Following assessment and diagnosis I will discuss with you whether treatment is appropriate and likely to be effective. If treatment is not indicated I will fully explain the reasons for this. For example, in some cases the impact of the problem may be minimal and nothing to worry about; or possibly treatment might be appropriate but it is not the right time.
If it is agreed that treatment is required I will produce a report outlining the assessment findings and the treatment programme and we will discuss how it will be carried out.
My treatment policy is to provide direct therapy myself only as far as is necessary. My aim is to empower parents and carers to take on simple treatment programmes at home mainly through watching the techniques I use in clinic and using my advice sheets. This way progress tends to be more rapid.
Most treatments involve playing games so are usually fun for the child and parent and I do give as much support as I can to parents in carrying out home practice as it does make a big difference.
For a nursery or school age child I also encourage staff to participate. Therapy will be much more effective if the school is involved.
It is difficult to say precisely how many treatment sessions may be needed. However as a guide, I would normally need 5-6 sessions after which I might give a home programme to be completed over a few weeks. But if you prefer we can discuss extended periods of treatment.
If an education setting is involved I would normally need one visit to explain and demonstrate a programme to a member of staff.
Discharge Policy
I do not believe in starting or continuing treatment when it is either not necessary or if it is likely that , due to a number of possible circumstances, it will not be effective at the particular point in time. If this is the case I will tell you and explain the reasons and your child will be discharged.
Confidentiality and consent
I adhere to the Royal College of Speech and Language Therapists (RCSLT) professional guidelines on confidentiality in relation to the sharing of information and the safe and secure keeping of clinical records.
From time to time I may need to refer a child to other services, such as audiology, or to liaise with other agencies that are involved with your child, such as their school. In all such cases I would discuss this with you and ask for your written consent.
Professional Development / CRB
I am a member of the RCSLT and registered with the Health and Care Professions Council. I keep up to date with developments in Speech and Language Therapy, and maintain a Continuing Professional Development log to support this. Naturally I have CRB clearance.