"The most effective modality to get back to Sport ASAP!"
What is Extracorporeal Shockwave Therapy?
Recommended in the National Institute for Clinical Excellence (NICE) guidelines, ESWT is a sonic mechanical energy that can be used to create a huge impact.  It was initially used to treat kidney stones, but has more recently been developed to treat muscle, tendon and bone.
How does it work?
We have chosen the Zimmer enPuls Shockwave machine – this uses electromagnets in the handpiece to accelerate a heavy projectile. The projectile hits an applicator and creates a unique radial wave which penetrates the tissue. This shockwave causes a cavitation effect to promote regeneration and repair of bone, tendons and muscle. The exact physiological mechanism is not entirely understood, however research suggests that through a combination of increased circulation, microtrauma and endorphin release the healing process in maximized.
Shockwave Gun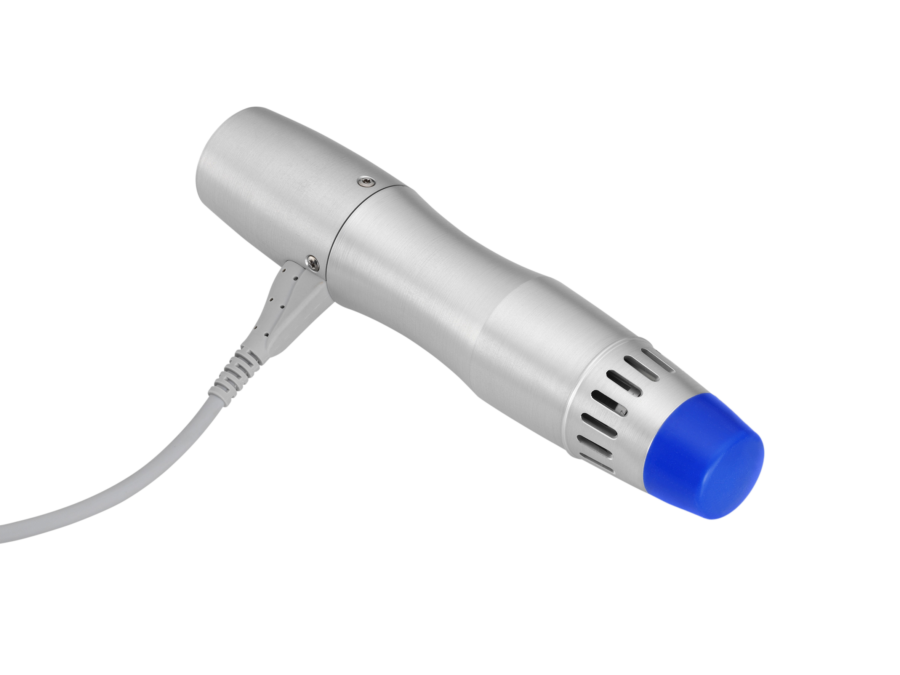 What can it treat?
ESWT is a non-invasive treatment with very few side effects and it is reported to accelerate healing times and reduce pain. It is recommended by the NICE guidelines in the treatment of many tendon injuries, which are listed on the left below. Most health insurance companies (including BUPA) will pay for ESWT for these conditions.
All the following conditions have good clinical evidence to show the effectiveness of ESWT in their management:
Plantar fasciitis
Achilles tendinopathy
Shoulder Calcific tendonitis
Trochanteric pain syndrome
Hamstring tendinopathy
Lateral epicondylitis (Tennis elbow)
Rotator cuff tendinopathy
Osgood – Schlatter's disease
Medial Tibial Stress syndrome (Shin splints)
Myofascial trigger points
Patellar tendinopathy
Carpal Tunnel syndrome
Are there any risks/side effects?
ESWT has very few side effects. In some cases treatment may cause localised redness to the skin, minor bruising and swelling, but these should settle within a week. The procedure only takes about 10 minutes but can be uncomfortable, but in most cases it causes an analgesic effect after treatment which can last for a few days.
Can anyone have ESWT?
Some medical conditions mean that you should not have shockwave treatment, such as pregnancy, cancer or vascular disease. Other contra-indications to treatment are medications such as anti-coagulants (Warfarin), anti-inflammatories, if you have a pacemaker fitted, an infection at the site of treatment or had a steroid injection recently.
How many treatments will I need?
Evidence shows that most conditions require 3 to 6 treatments and that the best results are achieved if these appointments are weekly. We offer a discount for sessions purchased in bundles of 3.
How do I get treatment?
Our Chartered Physios, Lynne and Kerensa and our Podiatrist, Andrea have completed the ESWT training. As professionals we would need to do a full assessment of you and your condition, especially as many of the conditions that respond well to ESWT also resolve with simpler and cheaper treatments. If your movement patterns and biomechanics are the root cause we will need to work with you to improve those first, but this may mean we get you better without needing ESWT!
If you have already seen a Physio or Podiatrist for your problem and it has failed to resolve, we do accept direct referrals from other practitioners which saves you the cost of another assessment.
Talk to our team to find out more and to book an appointment at our clinic in Todmorden or call us on 01706 819464.