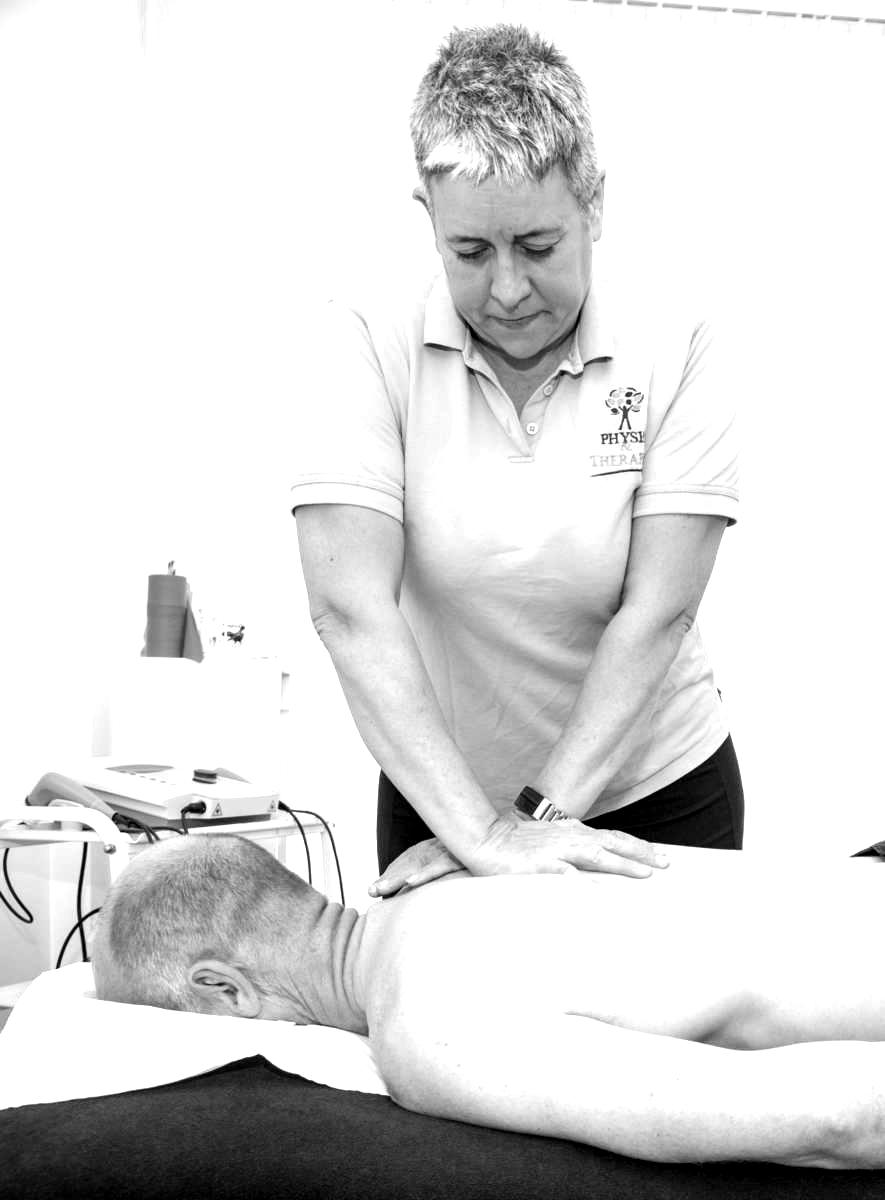 Welcome to Physio & Therapies
We are a Physiotherapy and Holistic health clinic based in the Pennine market town of Todmorden.
Our team of therapists are all specialists in their area of healthcare and help people of all ages with a range of physical and emotional problems. Initial assessments are designed to listen to the patient to fully understand your story and needs. Then we work with you to create a treatment plan of hands on therapy, advice and support that will help you reach your goal. Along the way we will communicate with other health professional involved in your care,including your GP or Consultant, to ensure the best care possible for you.
If you want to get in touch with us to take things further or if you want some advice, go to our contact page here contact us or fill out the form or email us.
Also, feel free to call in at: 61 Halifax Road, Todmorden, Lancashire OL14 5BB or call us at local rate: 01706 819464 or fax: 01706 839464.
Testimonials
Our Testimonials
I found the sessions I had with Neil very helpful in dealing with anxiety and stress. He helped me form coping strategies through hypnotherapy in which I can use by myself to deal with anxiety, as well as providing relief in the sessions when I was going through a highly anxious period. I would recommend hypnotherapy for anyone going through anxiety or stress that may be affecting their daily life.
I first visited Lynne for issues with joint pain and stability, and she suggested that her pilates classes would be useful to help build supporting strength around my joints. I opted to join her zoom classes, and have been enjoying pilates for about five months now. I'm absolutely loving it: Lynne is a fantastic teacher and her underlying anatomical knowledge means that she can explain exactly what we're doing and why, which I really love. Over zoom, Lynne is great at checking we're working safely and spotting when we need to correct what we're doing, so it feels exactly like an in-person class. We only do what we're able: Lynne shows several levels of each exercise and we're encouraged to listen to our body's limits, which makes for a really lovely environment with everyone doing what's appropriate for them. It's a fun group and we work hard and laugh often. Pilates has been a brilliant way to build my strength, and I'm feeling stronger, more mobile, and able to do the climbing and hiking I love than I have for years. When I do have joint pain and muscle spasms, It's also offered me new approaches to stretching and moving that can help. I can't recommend Pilates with Lynne, enough: it's such a brilliant part of my week. x
My life was ruled by Sugar and I craved it non stop, when I met with Neil he put me at my ease straight away, the Hypnosis he uses helps you get control of your life and I have been absolutely amazed at the results.
"Neil is wonderful at what he does. He is a compassionate and effective practitioner and a genuinely lovely guy. If you are having any doubts about doing this – don't! Go ahead and do it, you'll be so glad you did."
"I had three hypno sessions with Neil to help me deal with stage fright about playing the piano. Those sessions were one of the best experiences I've had in my life. I went into a world inside my head that was truly beautiful and where I was in control. I was able to offload guilt I'd been feeling for years and to increase my confidence in preparation for my grade 3 piano exam. I passed my exam but I gained so much more in terms of exploring my inner life and revealing a reserve of love, strength and imagination that I didn't know I had. More than just a therapy, it's a life experience you shouldn't miss."
For over 4 years I suffered debilitating pain and problems walking because my knees were affected by osteoarthritis. Earlier this year, I was recovering from a second total knee replacement operation, when sudden severe back pain prevented me standing up.
A nurse recommended physiotherapy so I contacted Physio & Therapies, resulting in a home visit from Lynne Midwinter. After she manipulated my pelvis, prodded some muscles (this is definitely the non-scientific version) and generally straightened me out, I immediately felt relief from the pain.
A couple more sessions at the practice have ensured I can now walk without pain, and am following an exercise regime which was clearly explained and demonstrated. It is no exaggeration to say I feel a new woman, gaining confidence that I will be able to walk normally again. I'm looking forward to walking up to those moors that I've missed for 4 years.
Thank you for cleaning the wax from my ears today. You were very competent and obviously highly skilled. It's difficult to believe you are still in training as it seemed you were already an experienced practitioner. I would certainly recommend your services to family and friends. Brilliant job!
Mr.Jones checked my ears and performed a very professional job. He recorded what was inside my ear and showed me on screen. Significant amounts of wax were removed carefully and effectively with the use of a vacuum suction unit. It was relatively pain free and I was made to feel at ease. A good job was done. I would strongly recommend Darren and his technology!
Just had my first experience of ear suction thanks to Darren Jones. All my earwax removal has been through my practice nurse using the  warm water jet. Darren was professional and explained the whole process from start to finish. I was shown my internal ear before and after the process. There was a small amount of discomfort due to the process but not painful. I would highly recommend Darren if you suffer with a build up of ear wax.
For years I've been suffering with hearing problems and pain due to a blocked right ear. I have been following recommendations from doctors and faithfully using warm olive oil but it was obviously much too big a problem for that. Darren's Microsuction treatment was perfect – in less than half an hour he was able to remove the bulk of the impacted wax and in addition he was able to show me pictures of the blocked area. No wonder the olive oil made no impact! It was solid! Now I can hear again and no longer have a continual earache. Thank you so much.
I had knee surgery which was successful. The implant was correctly placed and I should have recovered without problems. I did not. I had severe pain and I could not walk without crutches for months. I was seeing the hospital Physiotherapist regularly and she did not see any problems.
I saw my surgeon and he thought I was fine and told me to come back in a year. I continued to have a bent knee and it was impossible for me to do any normal activities. I just could not walk at all. I could not get into the shower. I could not even make a cup of tea! I was in constant pain and thoroughly depressed.
I saw Kerensa at Physio & Therapies. She worked very hard and did manage to get some movement during the sessions, but by the next day it  returned to a bent position.
She expressed concern that things were not as they should be, I asked to see my surgeon and was told I would have to wait 6 weeks. (This was private medical care, not our overworked NHS)
In despair I went to another surgeon for a second opinion. He immediately agreed with Kerensa and diagnosed that I had an adhesion. He said that my leg was completely stuck and deformed and I would never be able to walk with it like that. He performed a manipulation under anaesthetic. Instantly I could put weight on that leg and I could attempt to walk. (On crutches) The pain I had endured for months diminished
Months of attempting to walk on a bent knee had taken their toll and I then needed intensive Physiotherapy to get the leg to remain straight. Kerensa worked very hard to achieve this and . gradually we got there.
I assumed that once this was done I would become normal but 7 months of walking bent on crutches had had an effect.. Kerensa had to teach me to balance again and retrain my muscles all over my body to work effectively. It has been a long slow process. A year after surgery I have an almost normal life.
The whole thing has been a nightmare. The physical effects and the pain was dreadful but there were psychological side effects too, suddenly becoming disabled and imprisoned in my own home was terrifying. Throughout all this Kerensa has supported me and given me confidence by constantly telling me that I would get well. I am extremely grateful.
Without her support I would have believed my surgeon and the hospital Physiotherapist and I am convinced I would have given up all hope of ever getting back to normal again and would have been in a wheelchair.
Throughout all this the reception staff have noted my progress and constantly offered words of support and encouragement.I would recommend Physio and Therapies to anyone who experiences similar problems.
Sally really does know her stuff. She's committed, knowledgeable and very very helpful. Also a truly lovely person. One of the world's good guys."
Sally is incredibly knowledgeable and passionate about nutrition. Her [weightmanagement education] course is interesting and supportive and I highly recommend you attend and learn!
Sally provided me with great advice and diet plans for lowering my cholesterol in which we worked together over several months. I got amazing results and was really happy with all the dietary and nutrient advice which enabled me to achieve this. Nothing was too much trouble she was pleasant and very professional throughout all the process making you feel comfortable at all times. I would absolutely recommend her.
Great service. Very interesting. We learnt so much in the session – would definitely recommend.
Sally made me feel completely at ease. I would definitely recommend her services to anyone who has nutritional issues. It was a pleasant, educational insight into my own personal circumstances, thank you.
Sally is warm and welcoming and gave a realistic and educated service, she took the time to listen and I am really happy with her recommendations.
The help I received from Sally exceeded my expectations. The consultation was in-depth and the ensuing health plan was tailored to my specific needs. I would highly recommend Sally to anyone wanting to improve their health through their diet.
I started seeing Sally in May knowing my diet needed to change to improve my health. Sally has professionally and sensitively supported the change required to improve my health. There has been complete support and guidance throughout and non-judgemental suggestions. I can't thank Sally enough for the improvement in health physically and mentally . She goes above and beyond to help.
I have greatly appreciated your warmth, care, commitment and all the time and effort you spent in background research to address my individual symptoms. I believe I have really benefited from the work we did together (I think the balance of my gut flora is now better than it has been for many years) – thank you!
I would highly recommend Sally-Anne and the services she offers. My health has improved significantly since seeing her. She is very professional in every way.
I came to Sally with multiple complex issues. I was looking to fine tune my diet and also for guidance on which supplements may improve my fatigue and digestion. I had realistic expectations about what may be achieved in the short term, however, I am pleased to report that I have seen positive effects rather quickly from some simple changes.The most notable differences for me have been the positive effects of cutting out caffeine on hormonal issues and anxiety, whilst further cutting down on sugar and increasing my intake of leafy greens has improved my overall feeling of wellbeing.
The supplements Sally recommended are also starting to make some inroads with my fatigue and I am hopeful that the same will be true of the ones for my digestion. Sally is so warm and friendly which makes talking openly much easier, allowing you to really get to the crux of an issue. Her contact in between appointments was really appreciated as queries can pop up as you try new things and Sally was there to listen and offer different ways around any issues.
I feel more in control of my conditions now and will be continuing to work with Sally over the longer term in order to maintain the gains I have made as well as to
explore more positive actions I can take for my health.
Sally really knows her stuff when it comes to nutrition, she's also a lovely person and makes you feel comfortable with her very quickly whilst providing her professional support and guidance to the highest standard. She really did help me implement positive changes in my life and I would wholeheartedly recommend Sally and True To Your Health."
When I visited Sally for the first time I was not in a good place at all. Having been recently diagnosed with Osteoporosis and generally not feeling in good health and being told by my GP that I needed to take some medication with some potential nasty side effects I knew there had to be another way. I saw a post from Sally on Facebook and was immediately intrigued so I visited her website for more information and after reading the testimonials I booked a consultation. I wasn't sure what to expect but Sally was the consummate professional and generally very interested in my symptoms and how I was feeling generally which was so nice as I just was not getting that level of support from my GP.
We discussed lots of things and worked out a plan going forward by changing my diet and incorporating other wellbeing measures. At the beginning the progress was at fairly slow pace but I was starting to notice that I was starting to feel better in myself. By my next follow up session we discussed this progress and decided on the next steps. It was during this second period that I began to notice some big changes, my energy levels increased, my moods seemed to dramatically reduce and my mental clarity was much improved.
I also noticed a big improvement and almost complete reduction of my joint and muscle pain and my chronic daily headaches were starting to be less frequent too. I am so happy and thankful of the day I met Sally, who knew you could feel so much better by simply changing your diet. I have been working with Sally for nearly six months now and cant fault her knowledge and commitment. All in all first class service. If you are struggling with any health issues and looking for another way to get better, make an appointment with Sally, you will be glad you did.
I am 52 years old and work as an accountant.  I have two adult children and my hobbies are mountain biking and walking.
I have had back issues for over 20 years. A small number of major flare ups where I've really struggled to walk at all but mainly real stiffness, predominantly in my lower back which made getting out of cars, up from the settee or off my bike quite painful. Every few months I found that I was walking hunched over and sometimes I couldn't straighten up even after moving around for a few minutes. I struggled with lots of karate moves which involved my right hip and mountain biking caused a real strain on my back.
Over the years I have been to see physiotherapists and chiropractors. I seemed to end up feeling worse after visiting the physiotherapist and whilst I felt better with my 3 times a year sessions for a decade with my chiropractor (plus extra sessions following flare ups), the relief was always short lived as I was never dealing with the cause.
This year I decided to get some mountain bike coaching and to push myself a bit more.  I put in a lot more miles and a lot more effort. I then went away on a week's biking holiday and noticed that I was having to dose myself up on painkillers just to get round and that in the evening I could hardly manage to get up from the settee. On the day that I came home my back just gave up.  I could move but had to be helped off the settee, sleeping was painful and I now had a pain all the way across my hips.
A chance conversation led me to the door of Chris Halliday. I am so very glad of this. A friend with worse issues than me said that out of all the therapists she had seen over the years, Chris was the only one to get her pain free. I looked at the website and was very sceptical.  Somatics? What kind of weird and wonderful technique was this? It all sounded a bit wishy washy to me but I decided to give it a go.
What a great move this was.  A complete game changer. In early September I had my first of 5 sessions with Chris. A thorough investigation concluded that all the muscles on my right hand side were permanently contracted at around 30-40%, even when they should have been resting. Chris explained everything as we went along and I have since read more about the subject. Muscle memory.  That's what was to blame. At some point over the years my body had had to compensate for some injury or other. It might have been childbirth, karate, one of my many bike crashes.  We will never know. The upshot is that my body then perceived this new muscle position as the normal one and it would always seek to return to that position. Physio was just like pulling a knot that was already tight even tighter. I worked with Chris to help retrain my brain to retrain my muscles. It took a good few weeks as my body just wanted to go back to the old position but each week it was very obvious that I was getting more and more mobility back.  I have had to put a lot of time in myself, working on the exercises that I was given.  They were a chore to start with but I now rather like doing them.  Somatics must be done with complete focus on how your body feels, in my case comparing my good side with my bad. Full concentration is needed, concentrating on the different positions and differences between sides etc. After a few weeks it was clear that most of my back was doing great but my sacroiliac joint was still causing me discomfort and simply wouldn't go and in fact was getting worse.  I did some research and started thinking about the new exercise that I'd been doing and we worked on adapting things and after a few days there was a massive improvement.  It is definitely a case of learning to listen to your body and creating new muscle memory.
I am now two months on and my back feels better than it has in years and this is all due to Chris and the use of Somatics. I love that there are no harsh manipulations, no forcing your body where it doesn't want to go and with Chris's excellent tuition you start to learn about your own body and make the necessary amendments as you go on.  I can now get out of the car, off my bike and out of seats with zero stiffness in my lower back. My hips now move when I walk which they don't do before!  My whole posture has changed. I can't tell you how delighted I am with how much Chris has helped me. I am under no illusions that my back will still be an issue due to the nature of my work and hobbies but I now feel better equipped to deal with it. I will continue with maintenance visits to Chris and also with all the exercises that we have been working on. The more I read about Somatics the more I am convinced that most people with back issues can benefit from it.  If you don't believe it at least give it a go.  You will beed to be committed but it is so worth the effort. I can't recommend Chris highly enough.
Jane Roper 06/11/19
Welcoming, friendly and professional. Thank you!
Can't recommend Lynn enough! After suffering with headaches for quite sometime, Lynn showed me how my posture can affect my head. After physio from Lynn, plus exercises at home, my headaches have improved significantly. Thanks Lynn!
I am delighted with the change in my mobility after three appointments with Lynne. I contacted Physio & Therapies when getting to the bus stop had become a slow and painful walk. Now I am back to enjoying long pain free walks along the canal and also up the steep valley sides. It is several months since I have had this level of mobility. Penny
Just over a month ago myself and my partner were due to leave England and go on a road trip to Corfu. Unfortunatley whilst cleaning the toilet of all things I put my back out. So much pain, I had to resort to walking / hobling with my stick.
The GP, as usual, just gave me painkillers and sent me away. I'd had enough so I asked my partner if he would make me an appointment with the Physio in town. By this point i would try anything. I must say when he came home from making me an appointment he told me what they had said. The receptionist Pam had said " Its ok bring her down, Lynne likes a challenge." Usually I get nervous of going to new places, meeting new people but on hearing about how nice and understanding Pam was I felt comfortable about going.
I have sufferd for years with my back and also my knees. I have Fibromyalgia as well as a few other things going on.
For years I have seen so many Drs, Specialists and Consultants, Physiotherapists even water therapy but in the end the results were always the same.
Thats it, cant do anymore for you, go away, keep taking the tablets.
After my first appointment with Lynn I knew I had found my Miracle worker. I must say she made me feel relaxed and comfortable, she also filled me with confidence that with the excerises she gave me and a few more visits I would be able to go away.
It's now just over a month since i started seeing Lynn and now Im ready to set off on our road trip.
See miracles do happen.
I have already refered Lynne to some of my friends and I will continue to do so. Thank you again to Lynne and all the staff at Physio & Therapies
I have suffered from Migraines since I was a child, however, in 2012/2013 I started to experience a significant increase in Migraines and headaches. In the past I have tried various forms of medication specifically targeted to reduce and/or prevent the onset of a Migraine, which has either worked to a degree for a short period of time and/or whose side effects left me very debilitated. After consultation with a neurologist, I opted against changing medication yet again and I decided to pursue a different path.
This led me to Lynne Midwinter at Physio & Therapies in spring 2013. I was in a bit of state when I first saw Lynne, having Migraine attacks a few times a month and headaches practically daily. Lynne was extremely thorough in her investigation of my past medical history and Migraine/Headache patterns. Lynne's approach to my treatment has been very gentle and understanding.
A year down the line, I am now in a much happier place. I do still experience Migraines, although they are not as frequent or as severe. It is months since I last experienced what I call a Migraine where I have to lay down/sleep, if possible, in a dark room for hours. I do still have 'back up' Migraine medication which I would only use if the attack is severe, however it is months since I last had to take any medication. I am very pleased with my progress so far and I am so glad I was introduced to Lynne.
As part of my treatment plan, I was introduced to Claire Blomeley, who is a Holistic Therapist. Claire teaches The Alexander technique and has helped me to improve my posture, movement and prevent problems caused by unhelpful habits. The classes have really made me think about how I carry out my everyday tasks in a very different light. In addition I have recently enrolled in 6 week Pilates class which is held at Physio & Therapies by Physiotherapist, Kerensa McKie. The classes are very intimate (3/4 people per session), so you really do feel that you are getting that 1-2-1 service.
Kerensa makes sure you take things at your own pace and as a beginner, I feel very comfortable with that attitude. Lastly, I decided to look at what I'm putting into my body and Lynne recommended I speak to their Nutritional Therapist Elsbeth Hanson. Elsbeth asks you to complete a health questionnaire, which looks at your eating habits. Elsbeth will ask you what specifically you would like help with. In my case it was looking at reducing Migraines/Headaches, having more energy and reducing the amount of coughs and colds I seemed to experience. I had my first appointment 3 months ago and my eating habits have now completely changed. I realise I was eating really badly and missing meals. It's not like being on a diet; Elsbeth works with you and provides you with suggestions for food swaps. Instead of grabbing a few chocolate biscuits when I'm hungry, I now have a few oat biscuits with hummus. Much healthier and more filling. I've also lost weight for the first time in years, without even trying. I would highly recommend Physio & Therapies.
As you can see, I have tried a few of their treatments and I feel that having looked at treating my Migraines from various perspectives has greatly helped my condition. I don't feel like I am fighting on my own anymore; I feel that I now have a team who are fighting alongside of me. Thank you to all the Team.
Contact Us
How to get in touch with us